Parking
The Marriott Hotel has a parking lot that should be sufficient for our needs. There will be an:
Area designated for Cobra parking only
A separate area set aside for tow vehicles and car hauler parking.
Staff will direct you to the proper parking area and parking spot.
Once your tow vehicle and car hauler has been parked in the Marriott Hotel parking lot, there will be LITTLE TO NO CHANCE of you getting your tow vehicles and/or car hauler moved until Sunday morning. Please do not expect or ask to move your tow vehicle once it has been parked. If you believe you will need to move your tow vehicle before Sunday morning, please plan on finding another location other than the Marriott Hotel lot to park.
During the evening hours we will have a security service that will be patrolling the parking lot. However, the Marriott Hotel, the Ohio Cobra Club nor the London Cobra Show will assume any liability for any loss or damages that may occur.
---
MAP AND DIRECTIONS TO SPEEDWAY TRUCK STOP using state roads
There are two suggested routes with the one shown below taking you along Ohio's rural roads. This is the more scenic route and has far less traffic.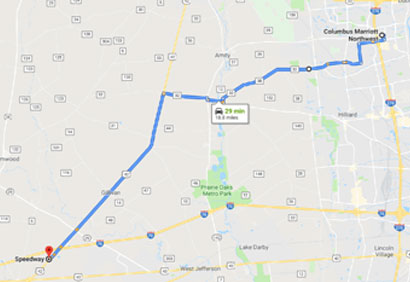 Directions - Estimated travel distance is 18.8 miles and 29 minutes.
Take the hotel's east entrance and turn right (south) onto Blazer Parkway for a short distance.
Using the right 2 lanes on Blazer Parkway, turn right onto Tuttle Crossing Boulevard and follow Tuttle Crossing Boulevard for 1.0 mile.
Turn left onto Wilcox Road and follow Wilcox Road for 0.8 miles.
At the traffic circle, turn right onto Riggins Road which turns into Hayden Run Boulevard; follow Haden Run Boulevard for 5.9 miles.
When Hayden Run Boulevard dead ends at Creek Road Turn left (south) onto Creek Road and follow Creek Road for 0.2 mile.
When Creek road dead ends at Price-Hillards Road Turn right (west) and follow Price Hillards Road for 0.7 mile.
When Price-Hillards Road crosses Northeast Plain City/Georgesville Road, turn right (north) and immediately turn left (west) and continue on Price-Hillards Road for 2.0 miles.
Turn left (south) onto US-42, following US-42 for 8.2 miles.
The Speedway Truck Stop is on your right 0.5 miles after your cross over the I-70 Freeway.
MAP AND DIRECTIONS TO SPEEDWAY TRUCK STOP using interstaTe freeways
The quickest route is shown below and uses freeways, but has far more traffic.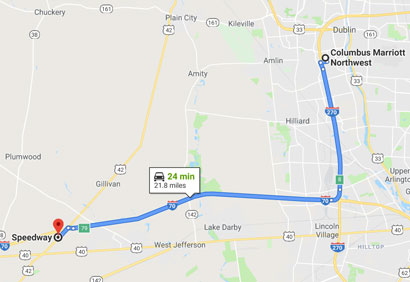 Directions - Estimated travel distance is 21.8 miles and 24 minutes.
Using the hotel's East entrance turn right (South) onto Blazer Parkway and use the right 2 lanes to turn right (West) onto Tuttle Crossing Boulevard.
Use the left 2 lanes of Tuttle Crossing to turn left (South), merging onto I-270 South.
Follow I-270 South for 6.1 miles.
At exit 8 take the right lane to merge onto I-70 West.
Follow I-70 West for 13.1 miles.
At exit 79 turn left (South) onto US-42 for 0.5 mile.
The Speedway Truck Stop parking lot is on your right.