8:00 am until 8:45 am - LCS Late Registration
You may register onsite at the Speedway Truck Stop, located approximately 15 miles west of the hotels, just southwest of the intersection of I-70 West (Exit 79) and U.S. Route 42 northeast of London, OH.
8:00 am until 9:00 am – Parade Line Up
Line up your Cobra at Speedway Truck Stop for the parade into London.
NOTE: Must be registered for the London Cobra Show in order to participate in the Cobra parade and to display your car on the closed off London streets. Your 2020 LCS window sticker must be on your windshield.
9:00 am
The Ed Combs Commemorative Cobra Parade leaves the Speedway Truck Stop, escorted by the Madison County Sheriff's Department, along the approximately 10 mile parade route into London.
9:30 am Approximately
The Cobra Parade arrives down London's North Main Street.
9:30 am until 3:00 pm
Visit with the vendors that are located along the LCS "Gasoline Alley" on London's Main Street in front of the Madison County Courthouse.
9:40 am
Opening ceremonies and check presentation to the City of London and Madison County officials at the intersection of London's North Main Street and Fifth Street.
9:50 am
Attend the drivers meeting for those drivers that are planning on giving charity rides.
10:00 am until 3:00 pm
Charity Rides provided in a Cobra for a $10.00 donation to Cystic Fibrosis.
3:00 pm
Cobras leave London and return to the host hotel.
5:30 pm until 6:00 pm
Happy Time with a cash bar in the Foyer of the ballroom.
Cookie Contest judging.
6:00 pm until 9:30 pm
Grand Gala in the Marriott's ballroom, socializing with friends, three-course dinner consisting of a salad, entrée and dessert, evening activities, drawing of the winning raffle ticket and phone call to the winner.
NOTE: In addition to the water, coffee, hot and ice tea served with dinner, a cash bar will be available for those that prefer something stronger.
After Dinner Auction
Mr. Dave Friedman, the official photographer for Carroll Shelby's Shelby American company, has generously donated these two hand-signed framed copies of his photographs. The photographs were taken by Friedman during the heyday of Shelby's Cobras.
Mr. Friedman has asked that these framed prints be auctioned at our Saturday evening dinner to raise additional money for the Cystic Fibrosis Foundation. Both prints are printed on Silver Metallic Paper. Prints are 24″ x 20″ and the frame size is 25 ¾" x 22 ¾" is size.
Many of Mr. Friedman's other photographs are for sale from the button below.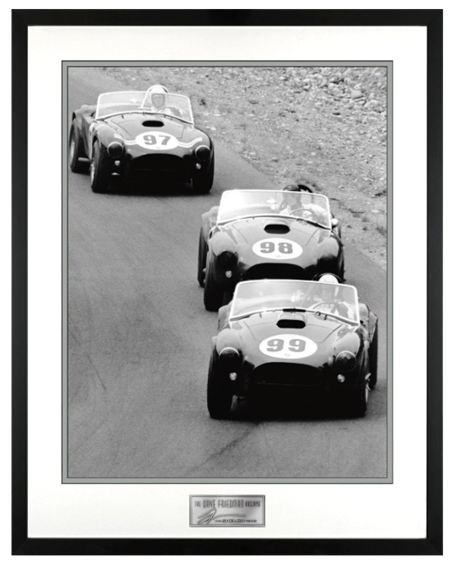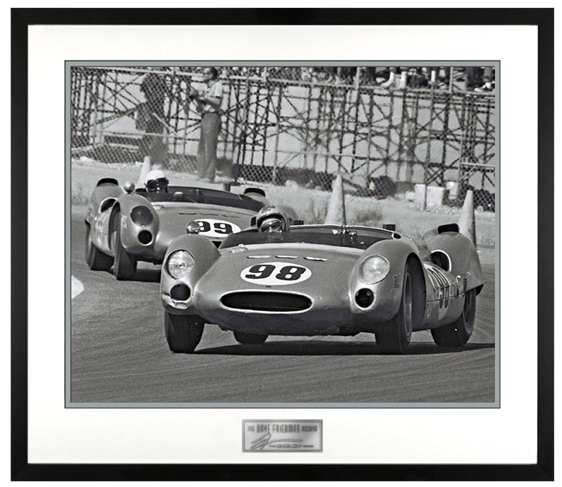 9:30 pm until Bedtime
After dinner spend time visiting with your extended Cobra family.